Uttar Pradesh, Haryana teams through to the semifinals of Kabaddi event in Khelo India 2019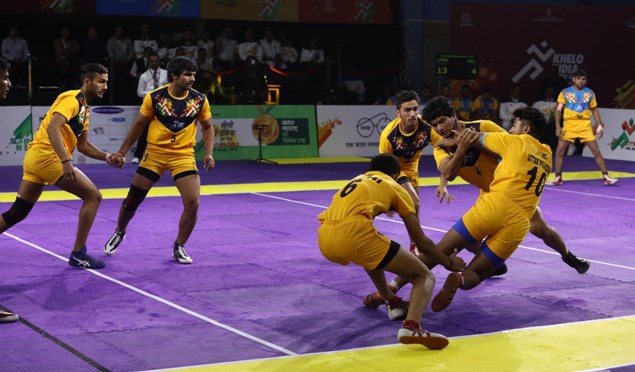 The Indian Central Government in associate with Maharashtra State Government has organized 2nd Khelo India Youth games at Shree Shiv Chhatrapati Sports Complex, Pune. Kabaddi's matches have been started from Monday (14th January).
Uttar Pradesh scored a big victory over Delhi to reach the semi-finals of the Boys Under-21 Kabaddi competition at the Khelo India Youth Games. UP won the do-or-die match 48-28. UP, who were down in the pool table buckled up and performed when it was needed the most.
The stars of their victory were Ujjwal Naagar and captain of their team, Vikrant. While Ujjwal reached the perfect 10 raids score, Vikrant dominated the entire game with his tackle raids. Delhi got no chance against Uttar Pradesh's tight defence.
Not only did the raiders play superbly, but the team also managed to all-out Delhi three times in the 40 minutes of play. Delhi had no answer to this and lost the semi-final spot to Uttar Pradesh.
In the U-17 Girls category, Pool A toppers Haryana scored a comfortable victory over Uttar Pradesh 27-22. But due to a very marginal difference of 5 points between the two teams, Uttar Pradesh secured their much-needed one point to reach the second spot.
The other two teams to reach the semis from Pool B were West Bengal and Chhattisgarh as West Bengal crushed Telangana 27-16 and Chhattisgarh beat Rajasthan 33-22. U-21 Chhattisgarh boys thrashed Tamilnadu 45-29.
Day 3 Results:
1) Telangana 16 vs 27 West Bengal (Group B Girls U-17)
2) Haryana 27 vs 22 Uttar Pradesh (Group A Girls U-17)
3) Maharashtra 38 vs 23 Uttar Pradesh (Group B Girls U-21)
4) Haryana 47 vs 23 Chhattisgarh (Group B Boys U-17)
5) Chhattisgarh 33 vs 22 Rajasthan (Group B Girls U-17)
6) Uttar Pradesh 48 vs 28 Delhi (Group A Boys U-21)
7) Maharashtra 40 vs 39 Tamilnadu (Group B Boys U-21)