VB vs Parvesh, the clash of defenders
Saiprasad Kagne
Vishal Bhardwaj, a left corner defender played all seasons for Telugu Titans. He is considered as one of the threatening defenders in the league. Parvesh Bhainswal, played a vital role in Gujarat Giant's maiden entry into the finals of PKL in his debut season itself. Due to his remarkable performance, he was retained by the team for the further season as well.
Analysis of Vishal Bhardwaj's Performance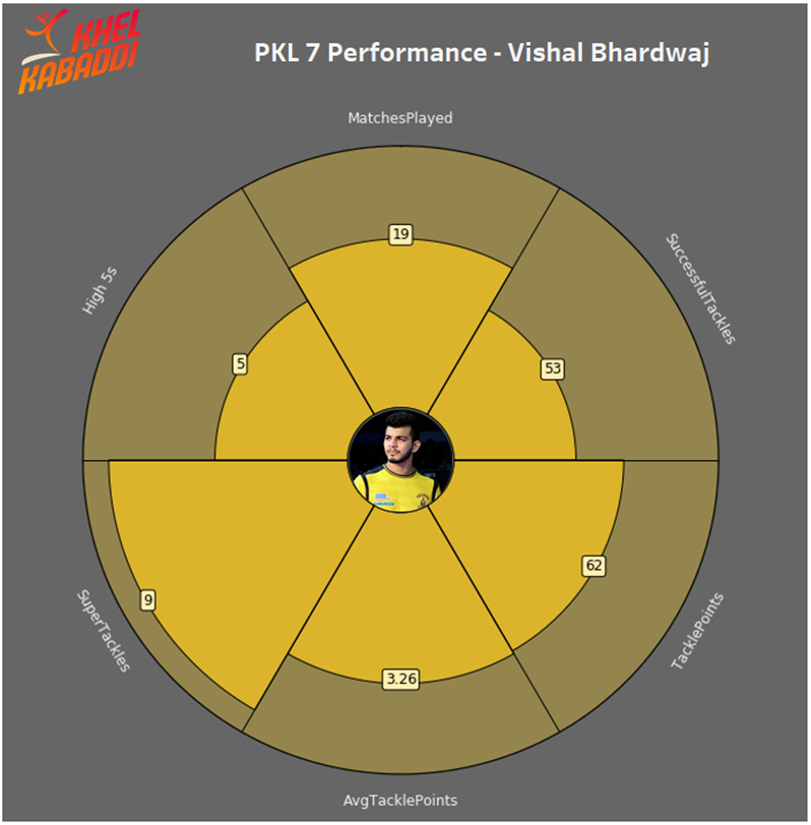 From the above chart, we can see that Vishal played 19 matches for his team Telugu Titans. Since his debut in PKL 4, he was playing for the same franchise and eventually developed a lot in terms of his fitness, mental strength, skillsets and many more. In last season, he scored 53 successful tackles, 62 tackle points, 9 super tackles which is the most by a defender in PKL 7, 4 high 5s, 47.32% tackle strike rate with an Average tackle point of 3.26. His Signature move is called as 'Ankle Hold'. Here the corner defenders basically set ups this move wherein they grab the ankle of the raider while he is aiming to sneak in a bonus point or a toe touch.
Analysis of Parvesh Bhainswal's Performance
Here it is noticed that Parvesh played 22 matches for his team Gujarat Giants. Parvesh plays the role of left cover in which his responsibilities include to maintain the wall of defense, to break the momentum of the raider. In last season, he scored 52 successful tackles, 55 tackle points, 3 super tackles, 4 high 5s, 51.49% tackle strike rate with an Average tackle point of 2.50. When it comes to his PKL records, PKL 5 was his breakthrough season in which his 4 super tackles were the most earned and had the 2nd most tackle points by an Indian player for Gujarat Giants.