What is the Government of India doing to promote Kabaddi? – Shashi Tharoor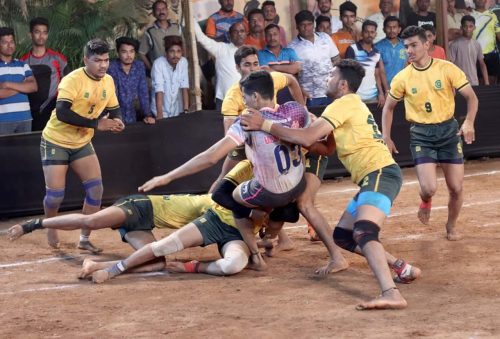 Senior Congress leader and MP Shashi Tharoor has questioned the Indian government and the sports ministry about the promotion of kabaddi. According to Tharoor, Kabaddi is a gift from India to the world and India should make efforts to make other countries accept the game. Unfortunately, this is being ignored. India must take steps to promote Kabaddi internationally. He hoped that the government would do better in this regard.
Tharoor had asked the sports ministry about the promotion of kabaddi and the Olympic inclusion of kabaddi. He has published the reply received from the Sports Ministry on his Twitter handle.
The sports ministry, in reply to Tharoor, said it had not discussed the inclusion of kabaddi in the Olympics with Asian countries; But kabaddi is said to be promoted in the country. Also, SAI and Lakshmibai National Institute have made the centres available free of cost for people in the field of sports including Kabaddi.
Kabaddi has also been included in the Khelo India Games. In addition, 126 kabaddi players have been selected for the 'Long Term Athlete Development Program' under Khelo India's Talent Search and Development Vertical.
The sports ministry, while answering Tharoor's questions, also said that it was helping the Amateur Kabaddi Federation of India for training and competitive sports at home and abroad.
Also, in response to a question on Olympic inclusion, the Sports Ministry said, "The decision to include any sport in the Olympics is taken by the International Olympic Committee (IOC). At the same time, all the criteria for Olympic inclusion must be met by the International Federation.
At the same time, the Ministry of Sports has said that it is the job of the International Kabaddi Federation to promote Kabaddi internationally; but they have full support of the government and the full support of kabaddi competitions in India or outside India.
Pro Kabaddi League has been taking place in India for the last several years. So now the game of Kabaddi is becoming popular in India.
Kabaddi should be one of India's great gifts to the sporting world, but it is woefully neglected. We must take the lead in its international promotion. Hoping the government does more to tap this wonderful resource. pic.twitter.com/ng8j9M2CBi

— Shashi Tharoor (@ShashiTharoor) September 25, 2020
Answer on Kabaddi continues on page 2: pic.twitter.com/OmmGKVl7c4

— Shashi Tharoor (@ShashiTharoor) September 25, 2020