Who will win PKL 6 trophy? Bengaluru Bulls or Gujarat Fortunegiants?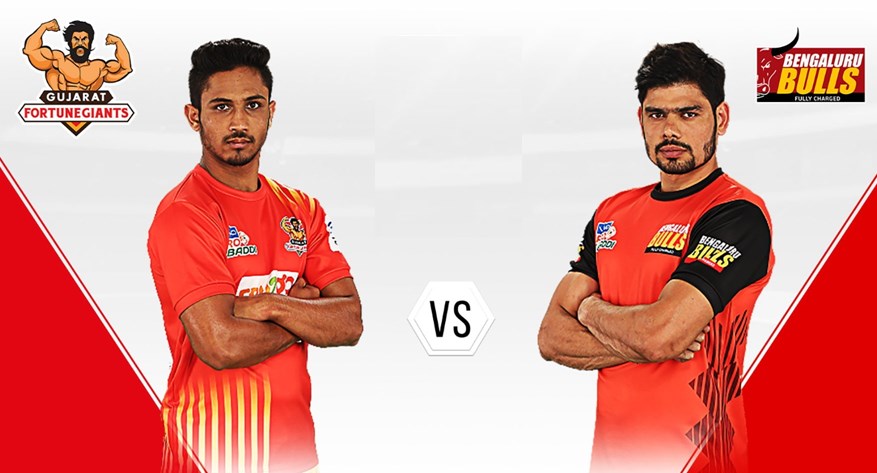 After a long wait of 3 months finally Pro Kabaddi League season 6 will get the new champion. Today Bengaluru Bulls and Gujarat Fortunegiants will fight with each other for the trophy. Bengaluru Bulls had an upper hand in this contest as they have beaten Gujarat in Qualifier 1. But Gujarat team will not let them go away easily. So every fan will be expecting a thrilling competition between these two teams.
Team Analysis:
Gujarat Fortunegiants
Gujarat Team is the table topper of Zone A. Sachin and K Prapanjan are the top raiders for them. Rohit Gulia and Lalit Chaudhary have also done well whenever they have given a chance. Skipper Sunil Kumar and Parvesh Bhainswal are the main pillars of Gujarat's defence. Ruturaj Koravi, Hadi Oshtorak, and Sachin Vittala have complimented them very well.
Bengaluru Bulls
Bengaluru Bulls are the toppers of Zone B. Lead raider Pawan Kumar Sehrawat has been splendid for them as he is their top raid points scorer. Kashiling Adake and skipper Rohit Kumar have given good support to him. Mahender Singh, Amit Sheoran, Raju Lal Choudhary and Ashish Kumar have been appreciable for them. Substitutes Sumit Singh and Ajay were also good for the team.
Head-to-head
Gujarat Fortunegiants 1 – 1 Bengaluru Bulls, 1 Tie
Key Battle
Sachin VS Pawan Kumar Sehrawat
Gujarat Fortunegiant's Sachin has grabbed 180 raid points from 22 matches. His consistent form is a key for Gujarat Fortunegiants to crush their opponents. On the other hand, there is Bengaluru Bull's and PKL 6's top raider Pawan Kumar Sehrawat who has been splendid for his team. He has grabbed 249 raid points from 23 matches. Both Sachin and Pawan are top scorers for their teams. This raider's rivalry will be interesting to watch.
Key Players
K Prapanjan, Gujarat Fortunegiants
Manjeet has proved himself as a reliable raider for Gujarat Fortunegiants. He has been very good supportive raider with 117 raid points from 17 matches.
Mahender Singh, Bengaluru Bulls
One of the key player's of Bengaluru Bulls defence Mahender Singh has grabbed a total of 61 tackle points from 23 matches.
Match Timing
The match will be held at 8 pm (IST) at DOME @NSCI SVP Stadium.
TV Broadcasting
Star Sports network will broadcast the match. hoststar.com will also broadcast the match online.
Squads
Gujarat Fortunegiants
Sunil Kumar, K Prapanjan, Parvesh Bhainswal, Ruturaj Koravi, Ajay Kumar, Dong Geon Lee, Hadi Oshtorak, Shubham Palkar, Amit Sharma, Dharmender, Sachin, Mahendra Rajput, Lalit Chaudhary, Vikram Chandola, Anil, Yashwant Bishnoi, Amit, C Kalai Arasan, Sachin Vittala, Rohit Gulia
Bengaluru Bulls
Rohit Kumar, Pawan Kumar, Mahender Singh, Kashiling Adake, Jasmer Gulia, Raju Lal Choudhary, Ashish Kumar, Dong Ju Hong, Gyung Tae Kim, Sandeep, Jawahar Vivek K, Mahesh Magdum, Mahendra Singh Dhaka, Nitesh BR, Anil, Anand V, Rohit, Harish Naik, Amit Sheoran, Sumit Singh Mithin Kumar