Bangalore Rhinos Crowned Champions of Inaugural Parle G Indo International Premier Kabaddi league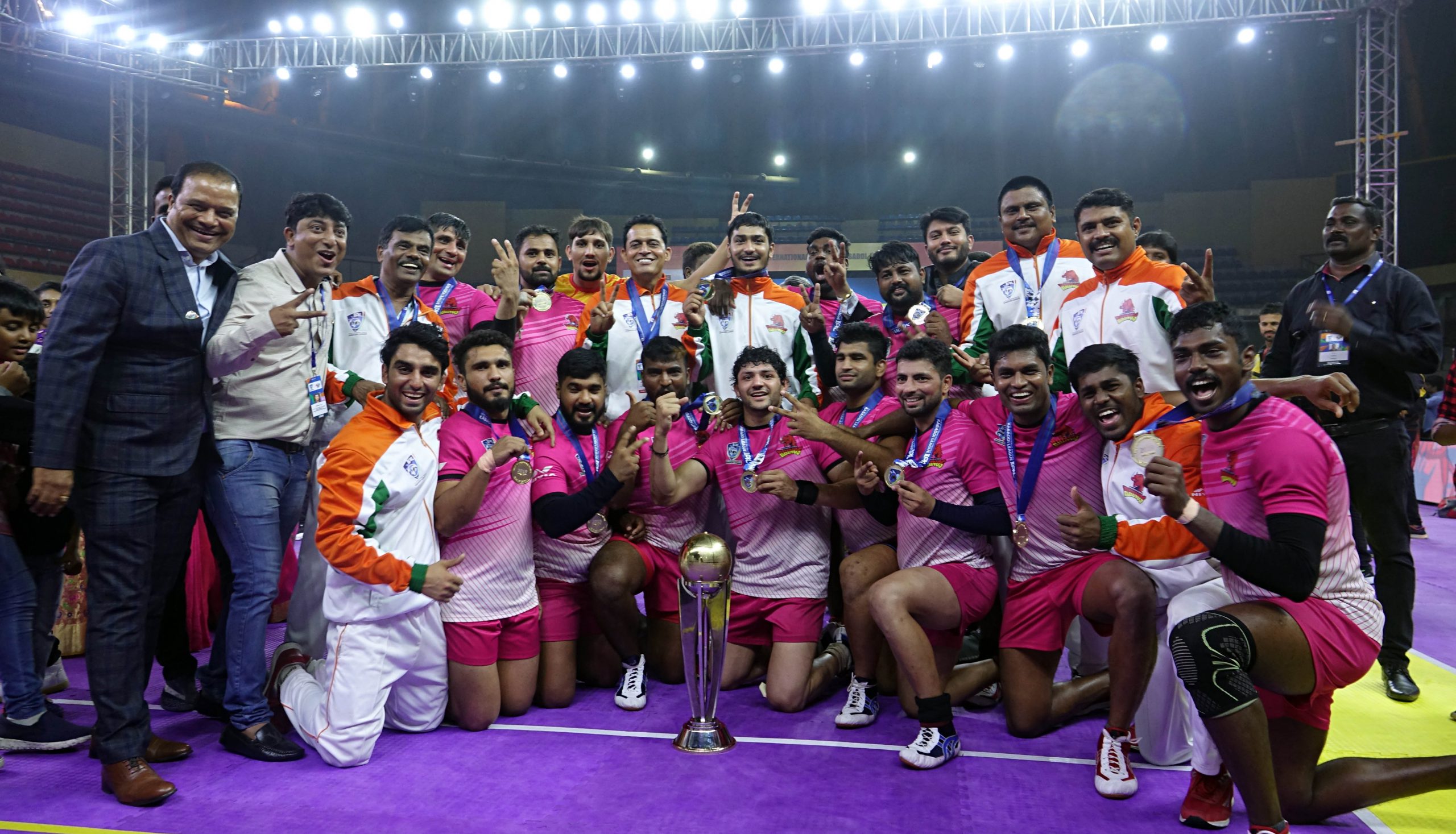 Bengaluru, June 4th 2019: Bangalore Rhinos playing in their own backyard at the iconic Sree Kanteerava Stadium defeated the tournament favourite Pune Pride 42-38 to be crowned the champions of Parle G Indo International Premier Kabaddi League.
For the winning team Bangalore Vishal stood out with 12 points including 11 raid points and one tackle point. Amarjeeth Singh from Pune maintaining his consistency again was the highest scorer for the runners-up with 13 points.
Pune started the first quarter on a strong note as they raced into a 3-1 lead at the beginning. This lead was short lived as a bonus by Vishal and Arumugam managing to send Sandeep Kharb out the score was now down to 3-2. From here on both the teams were competing for every point as Pune's solid defence was giving Bangalore a tough time.
The quarter finally ended with Pune Pride leading 9-7. With the start of the second quarter Bangalore looked like a different team as they raced into a 20-14 lead with Vipin Malik, Arumugam and Vishal proving lethal in their raiding and tackling. With 14 points in Q2 Bangalore entered half-time leading 21-15.
The third quarter started with Bangalore again oppressive as they gained a lead of 24-19 as Arumugam was looking in red hot form raiding and tackling efficiently scoring a bonus and then Sachin Poovaiah. But Pune had other ideas as they fought back strongly earning equal no of point from the quarter 10 each. Bangalore lead 31-25 at the end of the third quarter.
The last quarter of the match gave the impression that Pune might make a comeback but it was too little too late. Pune ended up getting 13 points in the quarter in response to Bangalore's 11 but the difference established by Bangalore in the second quarter which helped them close the match 42-38 and be crowned the maiden champions of Parle G Indo International Premier Kabaddi League.
Being the winning team of the inaugural edition of Parle G IPKL, Bangalore Rhinos walked away with a winner's cheque of INR 1.25 CR while the runners up – Pune Pride had to go back with a sum of INR 75 Lakhs. The third placed team Chennai Challengers also received a sum of INR 50 Lakhs while the fourth placed Diler Delhi received INR 25 Lakhs.