'Captain Cool' Anup Kumar set to bid adieu to Pro Kabaddi?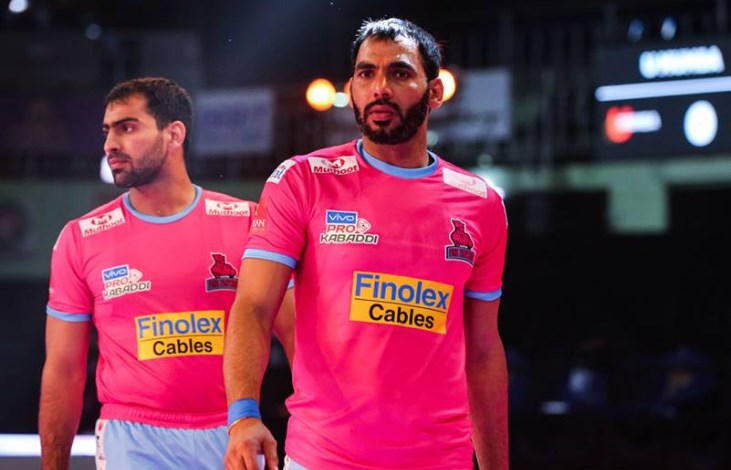 Panchkula: Former Indian Kabaddi Team Captain and Jaipur Pink Panther's Captain Anup Kumar has been the face of Indian Kabaddi for quite some time now. Anup is expected to announce his retirement from Pro Kabaddi soon.
Jaipur Pink Panthers have shifted their home leg to Panchkula, Haryana due to unavailability of the venue at Jaipur.If the reports are to be believed, the sources of Maha Sports have stated that Anup Kumar is no longer interested in playing in Pro Kabaddi. Haryana being his hometown, it is expected that he might play the last match of the his Pro Kabaddi career in front of his home crowd.
The Jaipur Leg of Pro Kabaddi is to begin on the 14th December and wrap up on the 20th of December. Jaipur will play their final match in the league stage on the 27th December at Kolkata which is a wild card match as well.
Off lately he has not been in the best of his form. This season has not been great where he has managed to score just 47 points from 12 matches. On the captain's front as well his team has managed to win just 3 out of 12 matches. They stand at the bottom of the Zone A.
Anup hails from Parla, Haryana which is just 247 kms from the Panchkula stadium where the Jaipur team is set to play their home leg.
Anup would continue to play in the All India Police Tournaments even after he retires from Pro Kabaddi. There have also been some instances where Anup Kumar and Deepak Niwas Hooda have not got along well. The cold vibes shared between the two have been evident in the matches as well.
Anup was not included in the recently concluded Asian Games and Dubai Kabaddi Masters tournament. Anup has also been struggling post his ankle surgery this August, after which he was not seen practicing much in the practice camps of Jaipur Pink Panthers.
So far Anup Kumar has scored 596 points from 90 matches. He is 6th in the list of highest point scorers in Pro Kabaddi League history.