Captain Ajay Thakur might play his last Asian Games this year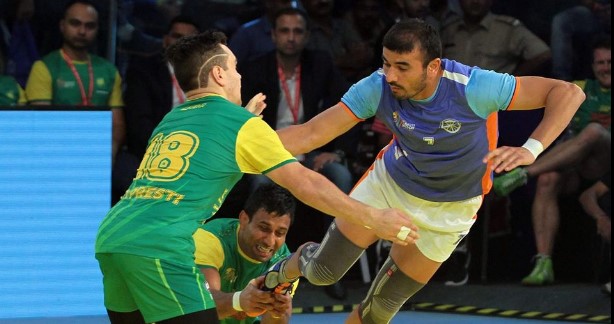 Indonesia's Jakarta and Palembang cities are ready for the biggest sporting event of the Asian continent. Asian Games are known as the 'Olympics of Asian Countries'.
Talking about Kabaddi, 18th Asian Games are special for India. Indian men's Kabaddi Team is going to participate for the 8th time at Asian Games. The team is expected to win its 8th consecutive gold which is a record in itself.
Pro-Kabaddi's star player and captain of Tamil Thalaivas team Ajay Thakur is leading the team at Asian Games. He will be playing his second Asian Games in his Kabaddi career. He was the part of Indian Kabaddi Team that won Gold at Asian Games 2014. He has also lead the Indian side at the Asian Kabaddi Championships 2017 and Kabaddi Masters Tournament 2018.
India was champion at both these tournaments. Under his captaincy, India has not lost a single match. Proving himself as the best raider in Kabaddi World Cup 2016, he has proven himself as the right successor of Anup Kumar as a captain.
But there is a possibility that this might be the last Asian Games of captain Ajay Thakur. Considering his current age of 32 it seems difficult to continue playing till the next Asian Games of 2022 where he would be 37 years old.
Majority Kabaddi players have played their last Asian Games when they were 34-35 years of age. Former Captain Rakesh Kumar played his last Asian Games in 2014 and was 32 years at that time. Anup Kumar and Navneet Gautam played their last Asian Games in 2014 at the age of 30.
When it comes to Ajay Thakur at the age of 37, Ajay may not be as physically fit as compared to the then youngsters. By 2022 Amateur Kabaddi Federation of India (AKFI) may decide to give chance to the younger generation of Kabaddi players.
But as we said it is just a possibility. If Ajay Thakur maintains his fitness and form we might be watching him in action in 2022 Asian Games as there is no better substitute to captain and to his position in Kabaddi Team.
As his fans say he is truly a Kohinoor Diamond of Indian Kabaddi. He was the main reason behind India's World Cup Win in 2016. He has won Gold at Asian Indoor Games 2007, Asian Indoor and Martial Arts Games 2013 and Asian Games 2014. No doubt he will take Indian team to the new heights if he plays till 2022 and he can lead the team to the golden glory at the Asian Games 2022.