Patna Pirates unveils new team jersey for Season 6 of Vivo Pro Kabaddi
Squad is all set to cement its championship title with Birla Gold Cement in Squad is all set to cement its championship title with Birla Gold Cement in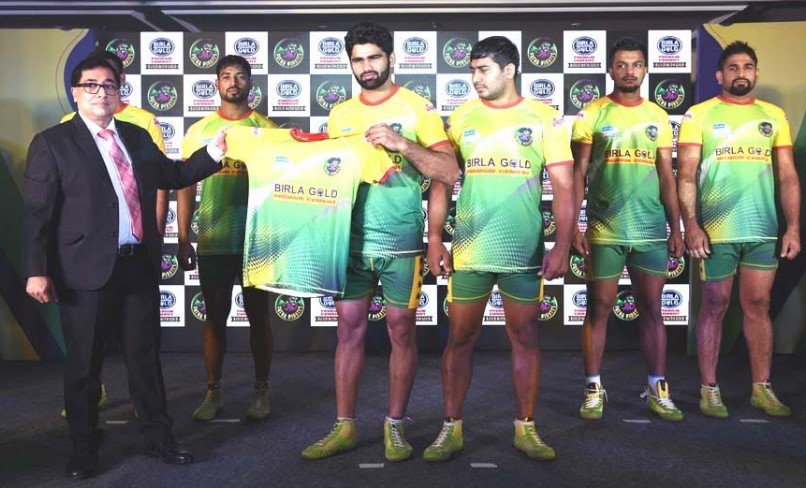 Patna | Patna Pirates, defending champion and three time title holder of Vivo Pro Kabaddi unveiled their new team jersey for Season 6 of Vivo Pro Kabaddi at a glittering function in Patna. Birla Gold Cement, a trusted leader in the cement sector, will continue to be the squad's title sponsor. The popular cement brand will be seen on the front of the team jersey as it goes out to raid the inaugural match of Season 6 on October 7, 2018 in Chennai.
Birla Gold Cement association with Patna Pirates as team's title sponsor began in Season 5. Birla Gold Cement is a part of Century Textiles & Industries Ltd., a flagship company of the B K Birla Group of Companies. The Group is a leading Business House with its presence in core industries like Textiles, Rayons, Chemicals, Paper & Pulp and Cement. Century Cement currently has 4 plants spread across the country.
The occasion was also leveraged to introduce squad strength of Patna Pirates. The team consists of 16 Indian players and 2 foreign players. Star player and "Dubki King" Pardeep Narwal will be supported by experienced raiders like Vikas Jaglan, Jawahar Dagar,Deepak Narwal, Surender Singh, Tushar Patil, Manjeet. Vijay Malik, Arvind Kumar, Parveen Birwal, Purna Singh, Naveen Narwal, Bintu Narwal,Kuldeep Singh,  Taedeok Eom, Hyunil Park will be part of the team as an all rounder. Ravindra Kumar, Vijay Kumar, Vikas Kale, Manish, Jaideep will be playing as defenders in the team. Taedeok and Hyunil are from Korea as part of mandatory foreign player quota. Arjuna awardee and chief coach of Patna Pirates, Shri Ram Mehar Singh will be responsible for advancing team's success in Season 6. Patna Pirates has been placed in Zone B and will compete against Bengal Warriors, Bengaluru Bulls, Telegu Titans, Tamil Thalaivas and UP Yoddha.
Speaking at the launch event, Mr Pawan S Rana, CEO, Patna Pirates said "we are all prepared to cement our championship title in Season 6.  We have selected a balanced team of youth and experience players guided by veteran coach and a dedicated support staff. We are also thankful to our flagship sponsor Birla Gold cement for continuing to invest their trust and encourage team to perform at the highest level. Last but not least, we are happy to be playing our home matches in Patna and will continue to delight our home fans and loyal supporters."
Speaking at the event, Mr. Vibhu Goyle, Chief Marketing Officer, Birla Gold Cement said "we are proud to partner with Patna Pirates in this season of Pro-Kabaddi League. Our association with the team began last year, while the team won the Pro-Kabaddi Title, the players won our hearts. This association represents leadership, expertise and association in our respective fields. Birla Gold Cement will be present on the Front of the Team Jersey this season. We are extremely proud of our team and we wish the champions all the best for Season 6."
The sixth edition of the Pro Kabaddi starts from October 7, 2018 and the final will be played on 5th January 2019 in Mumbai. Patna Pirates will play the inaugural match of Season 6 against Tamil Thalaivas on Sunday, October 7, 2018 at Jawahar Lal Nehru Indoor Stadium in Chennai.
Patna Pirates is the only team in this high thumping tournament that has performed consistently in all their league appearances. The team has reached in play off matches in all previous 4 seasons and consecutively retained championship title in Season 3, Season 4 and Season 5 of Pro Kabaddi. The team management has carefully chalked out a strategy for a talented squad to put up a consistent performance in the new format of Season 6 that will be played over 13 weeks against 11 formidable teams.
The defending champions are all set to thrill kabaddi aficionados in Season 6 of Vivo Pro Kabaddi.
Read-
–Full Squad of all the teams of Pro Kabaddi Season 6
–Kabaddi players have a chance to compete in a league as big as Pro Kabaddi
–Pawan Kumar is definitely one of the most anticipated players to watch out for