Now this is new, his jersey number is his car number too
Owning a car is special for everyone. Everyone thinks that the number of their car should be special too. Some even buy special numbers for their cars for millions of rupees.
Maharashtra Kabaddi player Nilesh Salunkhe has also taken a special number for his new car. Nilesh has informed his fans about this by sharing the photo on Instagram.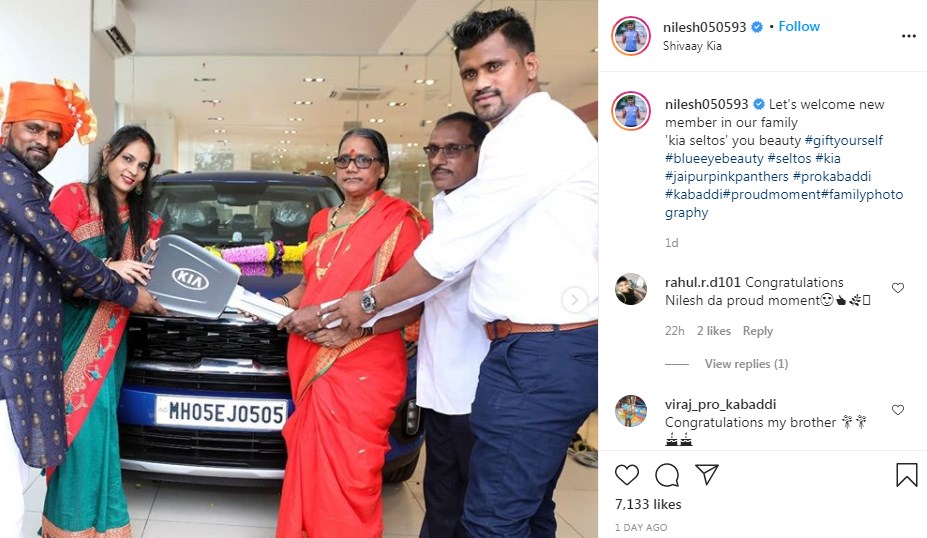 Nilesh recently purchased new Kia Seltos. He has shared photos of him accepting the car keys. The special thing is the number of this car. Nilesh's new car number is MH05 EJ0505. When Nilesh is on the mat, he always wears the number 05 jersey. Now he has taken his jersey number for his car. Many players are emotional about their jersey numbers. Nilesh has shown this by choosing his car number to be same as his jersey number.
Nilesh is currently playing Pro Kabaddi for the Jaipur Pink Panthers. He had caught everyone's attention with his consistent performance in the last two seasons of Pro Kabaddi.