Puneri Paltan name Girish Ernak as captain for Vivo Pro Kabaddi League Season 6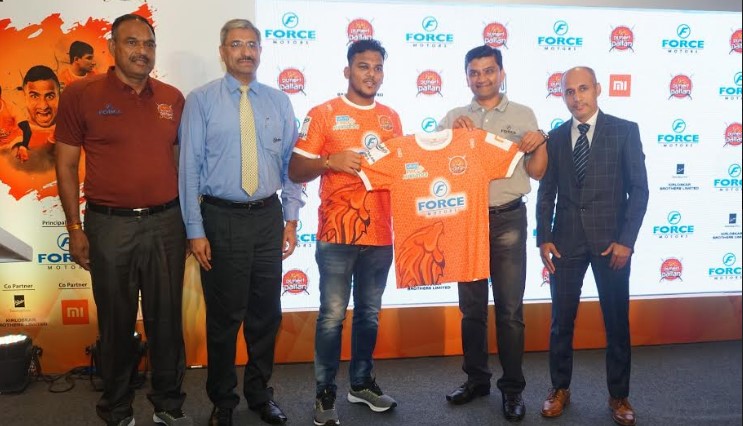 Pune, 26 September 2018: Puneri Paltan, one of the top performing teams in Vivo Pro Kabaddi League, announced the young & dynamic Girish Ernak as captain for the upcoming season 6. Girish has been associated with Puneri Paltan from season 5 and has played a significant role in winning matches for the team.
Mr. Kailash Kandpal, CEO Puneri Paltan along with Captain Girish Ernak, and Head coach Ashan Kumar, unveiled the team's jersey for season 6 with an innovative audiovisual clip. In addition to Force Motors Limited and Kirloskar Brothers Limited, Xiaomi India is a new brand onboard as the official smartphone partner. Mr. Praveen Karnavat, Senior Vice-President, Corporate Material, Force Motors Limited and Mr. Anurag Vohra, India Business Head of Kirloskar Brothers Limited, were present at the event.
Speaking on the pleasant occasion, Mr. Kailash Kandpal, CEO Puneri Paltan said, "I am thankful to all the sponsors who have shown faith in the sport Kabaddi and team Puneri Paltan. Girish will take charge of the team this season. With his leadership skills, I am sure he will up the team's game in Season 6. It has been a good start to the season with Force Motors Limited, Kirloskar Brothers Limited and Equio renewing their association with us. Xiaomi India is a new addition this year and we are delighted to have them on board. It is the support of these brands, who have shown repeated faith in us that makes the team, the players and the game stronger. Brands engaging through sports not only enhance the value of the sport but also provide a platform for fans to engage with the brand through various initiatives. We have a loyal fanbase which is growing every season and their enthusiasm and support motivates us to perform better season after season."
On the joyous occasion, the newly elected captain of Puneri Paltan, Girish Ernak said, "I am extremely honored to have been bestowed with this duty of leading the team. I know that this is not just a designation but also a great responsibility. I am humbled to know that the management has immense faith in me and I promise to put forth my best foot forward to ensure that the Puneri lions roar the loudest in all the matches. We as a unit are putting in lots of efforts to train and strengthen our battalion. With Ashan Sir's guidance, we are confident about bringing the trophy home this season."
Mr. Prasan Firodia, Managing Director Force Motors Ltd. said, "Kabaddi is an indigenous and popular sport followed by many of our customers in rural India. The association represents the common ground of this earthy sport and our rugged product range- Indigenous, Strong and Agile. Our Trax range of Multi Utility Vehicles and Balwan agricultural Tractors resonates these qualities. We are pleased to be the principal partner of our local Pune team- Puneri Paltan. We are hopeful for a spectacular performance and wish all the players very best for this season!"
Mr. Anurag Vohra, India Business Head, Kirloskar Brothers Limited said, "We are extremely delighted to again co-sponsor the Puneri Paltan team for the second year in a row. We feel honored to be associated with the traditional Indian sport. There is a large similarity between KBL and Kabaddi. KBL, this year, is celebrating its 130 years of existence and the advent of Kabaddi as a competitive sport can also be traced back to the early 20th century. Kabaddi is a sport that requires a lot of strength, intelligence, speed and strategy. KBL pumps are also known in the market for their reliability, durability, performance and innovation. Both embark a sense of "Make in India" feeling, and yes, both are representing Pune on the global stage. Kabaddi has made its foray into international arena and so has KBL with 8 plants in India and 7 plants abroad. We are confident of a stupendous performance of the Puneri Paltan and wish them all the best."
 Mr. Karan Shroff, Head – Brand Marketing, Xiaomi India said, "Puneri Paltan is one of the finest teams in the tournament and we are excited to be a part of their journey. Having come onboard as the official smartphone partner for them, we look forward to a fruitful association and a high-quality season ahead.  Puneri Paltan promises some serious game this season, and 2018 being an equally amazing year for Xiaomi – we thought it is the right time for us to be a part of their journey."
 Puneri Paltan has been one of the most consistent teams of Vivo Pro Kabaddi League and finished in the top four for the last three seasons. This year the team has a perfect blend of experience and young talent. Veteran players like Rajesh Mondal, Girish Ernak and Sandeep Narwal bring with them truckloads of experience that can help the team in clinching the title this year.  Also young and charged up players like Nitin Tomar, Akshay Jadhav, GB More and Rinku further add to the strength of the team.
The Vivo Pro Kabaddi League Season 6 will begin from 7th October 2018 and Puneri Paltan will be playing its first match against U Mumba on 7thOctober 2018 in Chennai. Puneri Paltan's home leg matches in Pune are scheduled from 18th October 2018 – 24th October 2018.
Read-
—Patna Pirates unveils new team jersey for Season 6 of Vivo Pro Kabaddi
–Full Squad of all the teams of Pro Kabaddi Season 6
–Kabaddi players have a chance to compete in a league as big as Pro Kabaddi
–Pawan Kumar is definitely one of the most anticipated players to watch out for