South Korea creates history to defeat India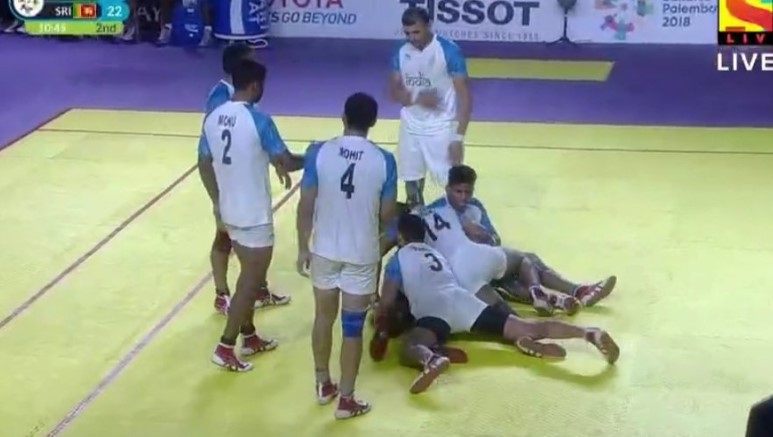 South Korea beats India 24-23 in the neck-to-neck match played till last minute and becomes the first team ever to defeat an Indian side in the history of Asian Games.
From the starting of the match played at Garuda Sports Complex, the Koreans were in the lead and they kept it till the last minute and beat India.
Koreans were leading as 3-1 but skipper Ajay Thakur and Pardeep Narwal  managed to pull back the lead and made it 3-3. Then after Indian raiders, Monu Goyat, Pardeep Narwal, Rohit Kumar got failed to score points which lead first half belonged to South Korea 14-11.
After first half Jang Kun Lee, Dong Geon Lee was managing to get points from Indian defense. From India, it was captain Ajay Thakur, Monu Goyat and Pardeep Narwal who tried to decrease the lead taken by South Korea but were getting failed to do so.
At one time, the score was equal 16-16. But South Korea defense was getting successful to keep Indian raiders on the bench. And simultaneously Indian defense was doing avoidable mistakes. At 38th minute Girish Ernak, Deepak Hooda, and Ajay Thakur did combination super tackle to reduce the deficit. The score was 22-23 at that time.
Ajay Thakur went in for the final raid of the match and somehow managed to get the raid point but was dashed out of bounds as the referees gave one point each to the teams and India lost the game 23-24. 

South Korea created history as they defeat India. No team has ever beaten Indian side in Asian Games. Indian Kabaddi Team lost for the first time under the captaincy of Ajay Thakur.
Overall it was a warning bell for the champion Indian side. Defense combination was messed up. Continue failure of raiders in front of a strong defense is also subject of a query for the coach as to work on team's mistakes.
After this unexpected defeat from South Korea, it will be interesting to see how the Indian side marks its comeback tomorrow against Thailand at 3.30 pm as per IST.